Why the Audi A6 Marks the Pinnacle of Luxury
The Audi A6 is a high-performance luxury sedan with numerous high-end features. Even so, it is an exceptionally priced luxury vehicle that makes it possible for just about anyone to enjoy a truly luxurious driving experience. If you are looking for a car that offers some of the most advanced technologies and highly sophisticated interior designs, then you will undoubtedly love driving the Audi A6 around the Bridgewater area.
Experience the Luxuriousness of a Traditional Audi
One of the most significant aspects of driving a modern Audi is the fact that they have such a broadly appealing outer body design. When you drive an Audi, you are driving in an unmistakably luxurious vehicle that everyone in Bridgewater will instantly be able to recognize. Even so, while Audi does create some of the most recognizable cars on the road, they nonetheless represent the height of understated luxury. Thus, the simple outer body design of the Audi A6 speaks volumes in terms of the quality of these vehicles, yet you will soon discover during a test drive that their interiors take modern luxury to a new level.
Enjoy a Luxurious Interior Fit for Royalty
When drivers in Bridgewater hop into a new Audi, they are instantly treated to some of the finest interiors in the luxury car market. High-end features like LED ambient lighting set the mood for a unique driving experience that is highlighted by exceptional handling and performance. HD Matrix-design LED headlights will light the way on even the darkest of roads, while animated taillights will always make your intentions known to other drivers as well. To further highlight this extraordinary driving experience, you will also discover that the latest Audi vehicles on our lot here at Audi Bridgewater feature superb infotainment systems that are enhanced by 16 Bang & Olufsen speakers to make you feel like you are right there in the recording studio when listening to some of your favorite tunes.
Drive with Intelligent AI Supporting You Along the Way
Of course, no overview of these high-performance turbocharged sedans would be complete without mentioning the helpful AI that is now being included in their onboard computers. A series of sophisticated sensors are also installed in these vehicles to make driving far more enjoyable. Thus, when you get behind the wheel of an Audi A6, you are provided with a variety of features that will help you keep your distance from other vehicles in front of you while simultaneously helping you remain centered in your own lane. It's features like these that really elevate the driving experience to a whole new level.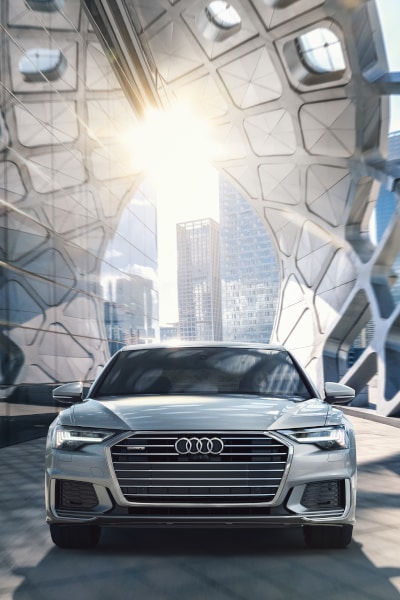 New Audi A6 for Sale in Bridgewater, NJ